"Short & Crisp Blogpost on Career Avenues for you in Airlines"
Dreaming of a High flying career then…

Heyy you are on the Right Post!
So, read on with FULL PASSION if you have been;
- Someone who was always fascinated by Airplanes flying in the sky.
- You gawked in awe and respect at the Airline Staff.
- You craved the adventurous life in the sky.
- On purpose you wandered off to many areas inside the Aircraft, just to see and experience them.
- You enthusiastically and patiently listen to and watch all the videos about Aviation.
- You look forward to visiting the Airport and once there you are fully immersed in its surroundings.
- You are gripped with a sense of pride; just by the thought of wearing the Airline Uniform.
Then, a Career in Airlines is what you must look forward to…
Before we go ahead let's understand the different Areas where you may end up possibly working.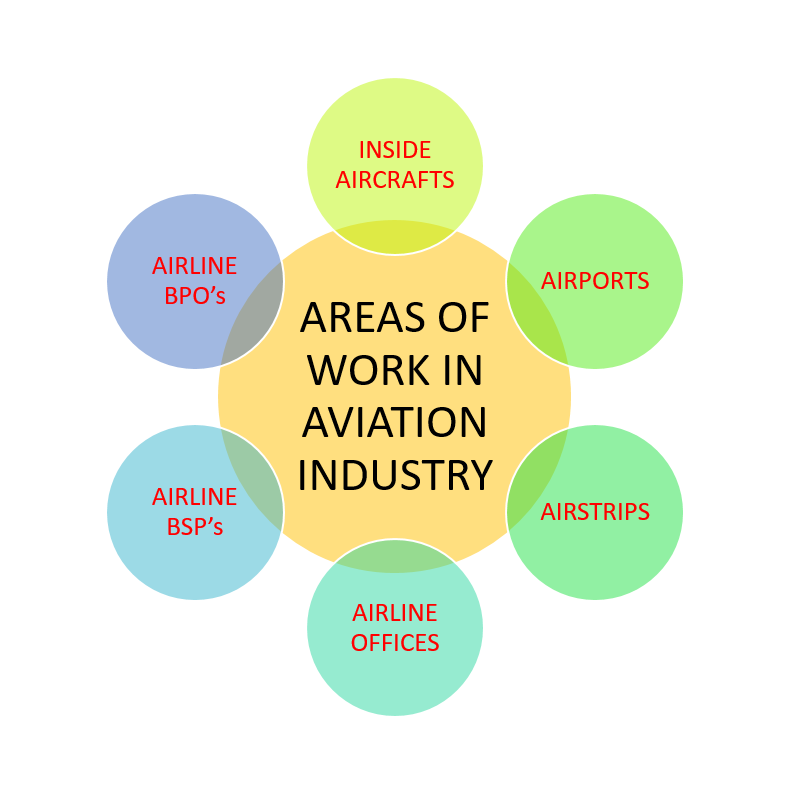 In this post, we'll reveal to you many aspects of different careers in Airlines.
So far you must have noticed that we have used the word Airlines instead of Aviation.
This is because both the words are DIFFERENT
Aviation is a BIG word that encompasses the technical aspects of Aircraft like MRO Operations (Maintenance, Repairs, and Overhaul), aircraft manufacturing design and safety, Aircraft Navigation, Air Traffic Management, and more…
And, managing these technical aspects calls for technical staff with deep knowledge of applied Science based subjects like Physics, Chemistry, and Mathematics. This requires a person who has cleared his / her HSC with PCM (Physics, Chemistry & Mathematics) as major subjects.
However, that does not mean that the Doors of opportunity are closed for anyone from Humanities backgrounds.
Even if you are from a Humanities background, you can still enter the Non-Technical side of the airline business.
Let us understand the Non-Technical side of careers in the Airlines Industry.
I. FLIGHT PURSER


They are "Senior Cabin Crew" who are responsible for many crucial on-board tasks like;
- Re-confirming the passenger list.
- Making important passenger announcements.
- Handling flight medical emergencies or unruly passengers and Reporting service gaps.
- Keeping a tab on onboard Inventory and in-flight sales.
- Ensuring that Crew documentation is up to the mark and in compliance with International Aviation rules.
- Deploying the Crew in different work areas.
- Co-ordinate with Pilots.
- Reporting any equipment defects.
And more…
II. CABIN CREW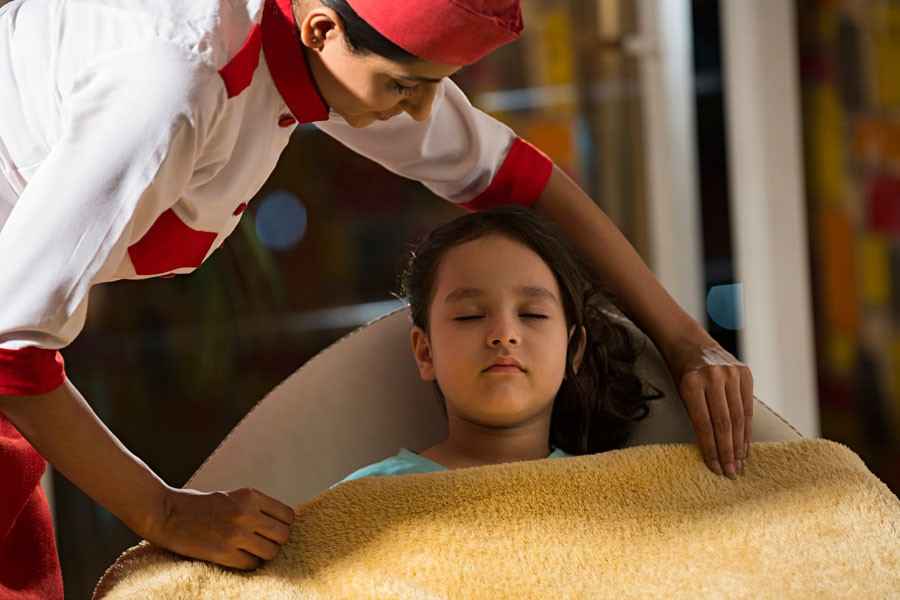 It is said that the work of the Cabin Crew starts much before the passengers board the flight and ends much later after the last passenger exits the aircraft. Some of the major tasks carried out by Cabin Crew include:- Helping passengers to board the Aircraft.- Greeting the fliers while they enter and exit.
- Helping fliers locate their seats on Aircraft.
- Doing the Safety Demonstration.
- Providing Special Assistance to the elderly, disabled, and unwell fliers.
- Ensuring all the safety protocols are followed and demonstrated to the fliers.
- Upsell the products on board.
- Serve meals to the fliers, as per their requirements, and clear the soiled ware.
- Assist passengers in case of any mid-air Emergency.
- Undertake post-flight clearance and prepare relevant reports.
Hierarchy of Cabin Crew in an Airline:
Cabin Service Director.
Purser/ Inflight Manager/ Check Hostess/ Inflight Supervisors.
Grade One crew.
Grade Two crew.
Air Hostess/ Stewards (if there is no grading in a certain airline).
Trainees.
All Cabin Crew reports to their "Base Manager" headed by the Head Inflight at the base station.
III. GROUND STAFF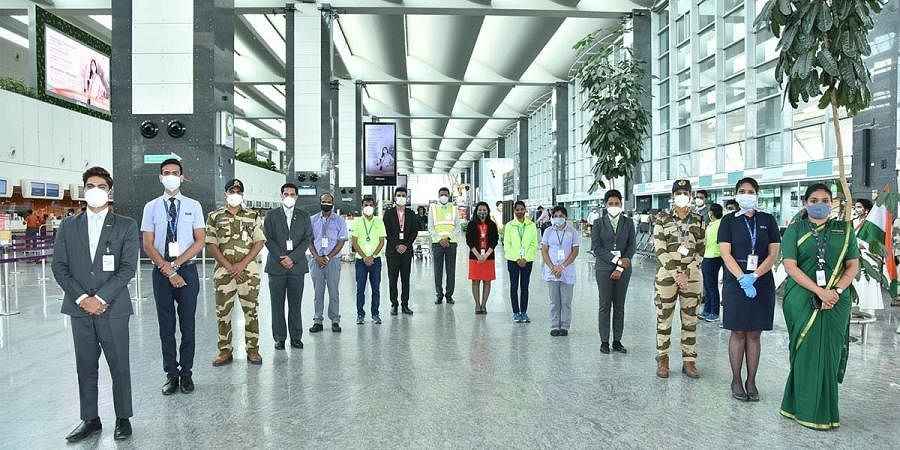 The presence of Ground Staff is very crucial in the entire Aviation business. Without the presence of Ground Staff, no plane can take off / no Airport can remain functional. Work of Ground Staff is hectic as it involves plenty of moving around and long standing hours. The usual tasks that the Ground Staff handles include;

1. Handling Baggage
Which involves loading and unloading passenger baggage when they embark and disembark. Manning the Baggage Conveyor Belts to ensure the flawless flow of bags.
2. Arranging Mobile Gangway Ladder
Also referred to as Jet Bridges, Air Stairs, or Boarding Ramps that allow the passengers to board or deplane from the flight. Some Gangways are big in size that connects directly to the terminals.
3. Provision of Boarding Pass
Ground Staff checks & verifies the credentials of the fliers based on which the Boarding Pass is issued or sometimes denied. In case, if the flier fails to establish their proper credentials.
4. Luggage Assistance
Ground Staff provides all sorts of Baggage Assistance like;
- Loading the Bags for security checks on conveyor belts (Yeah having some muscles and a regular workout regime will help you deal with heavy bag lifting).
- Loading the Bags in the Aircraft when boarding.
- Tag the Bags with Baggage Tags.
- Stamp the luggage.
- When passengers are on a transit flight, the Ground Staff loads them on a connecting flight.
- Luggage assistance also includes handling Customer complaints pertaining to delayed or lost bags and filing appropriate documents.
5. Handling Telephones
Ground Staff is also responsible for answering the flier and inquiry calls for handling reservation-related queries and doubts.
6. Tickets Issuance & Reconfirmation
Ground Staff manning the Ticket Counters perform the tasks like:
- Issuing the tickets to last-minute WALK-IN fliers.
- Handling ticket-related PNR queries.
- Booking the Interconnecting flights.
- Co-ordinating with angry and tired layover passengers whose flight has been delayed or canceled, includes booking the hotels or transit lounges, arranging meals, and more. This requires strong interpersonal skills, patience, and soft skills.
7. Cabin Services
- It involves ensuring that the cabin is clean, hygienic, safe, and full of supplies before the flight.
- Their job includes checking all the seats, windows, aisles, doors, and more for any kind and type of equipment faults & resolving them.

8. Manning the Arrival & Departure Gates
It involves directing fliers for hassle-free completion of Customs & Immigration Procedures and formalities. All while ensuring that no area of the Airport is overcrowded.
9. Managing Important Announcements
When at an airport, the Ground Staff is responsible for guiding the fliers during different stages of their Flying Cycle, and they do this by making timely announcements.
10. Ensuring Hygiene & Equipment Maintenance
For smooth Airport Operations, the Ground Staff ensures that any equipment-related fault is immediately reported to the Engineering & Repairs team and all the areas are regularly cleaned and sanitized with due consideration of the new Normal.
IV. RUNWAY MAINTENANCE CREW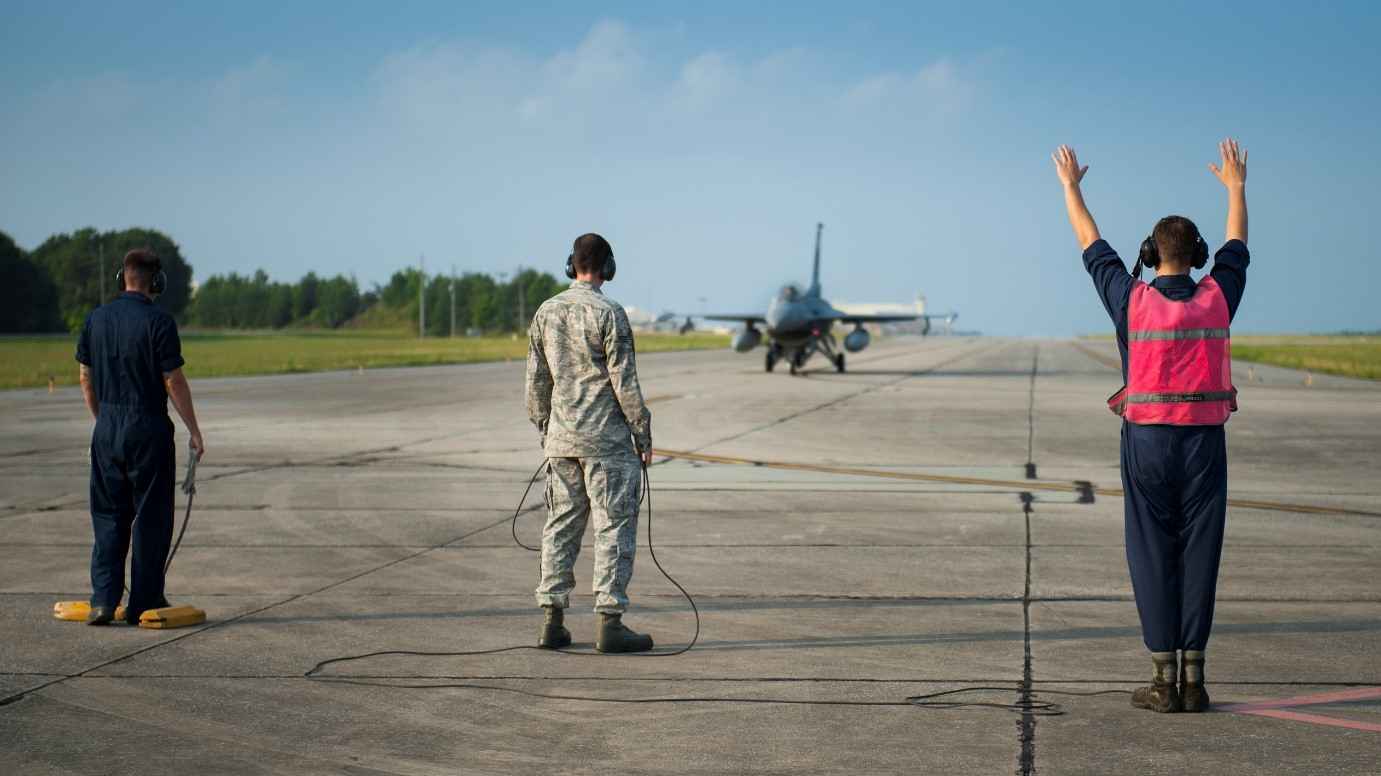 Also called Airfield maintenance crews/ technicians. They handle a variety of tasks like:
- Maintenance of all the Airport related equipment.
- Maintaining the Airport building.
- Undertaking timely repairs.

Perform the Airport Runway management & maintenance tasks like:
1. Mowing and trimming any vegetation along the runway.
2. Uprooting any protruding trees and shrubs.
3. Maintaining taxiway lights, and airport fences and ensuring that no object or trash is on the runway.
4. Maintain the supporting Airport infrastructure for safe operations like; fences & signposts, hangars, and ATC Tower.
5. Undertaking pest control-based spraying activities.
6. Assist in case of any Aircraft related emergencies when they arise.
V. AIRCRAFT MARSHALLING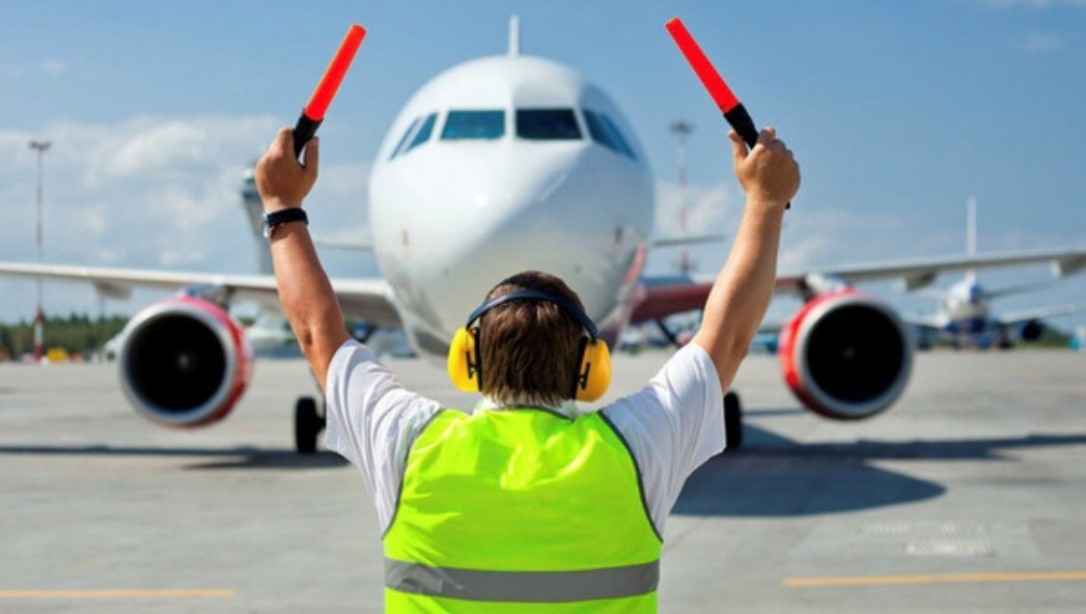 An extended part of Aircraft Ground Handling, aircraft marshaling is a visual non-verbal communication between the ground personnel and the cockpit crew. This communication is aided by a handheld device called "Illumination Beacons" or Marshalling Wands.
This communication is crucial as it guides the pilots to safely land and parks the aircraft by slowing down, turning, slow down, stop, accelerate, and dock the aircraft in a manner that enables the aerobridge to be connected with the cabin door and more. They also act as on-field take-off and landing guides to the pilots in coordination with Air Traffic Controllers.
A person who is trained in this exercise is called a Marshaller. Aircraft Marshalls communicate with the aid of internationally accepted, prescribed, and accepted signals. They are equipped with a safety vest, helmet, gloves, shoes, acoustic noise-cutting earmuffs, and handheld illumination beacons.
Come rain, shine, chills, or storms the Aircraft Marshallers are always positioned on the ground.
VI. AIRLINE BSP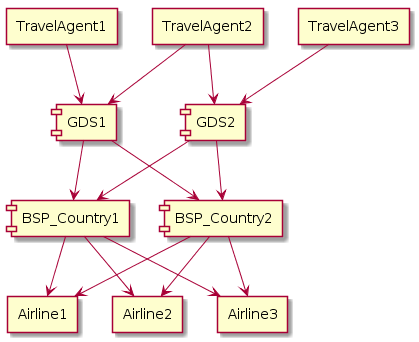 Airline BSP stands for Billing & Settlement Plan. They are the contact centers responsible for handling all the ticketing-related issues faced by Travel Trade like reconciliation, refunds, FOREX remittances, corrections of wrong tickets issued, timely issuance of Airline Debit notes to travel agents, and more.
To work at Airline BSP one needs a good knowledge of IATA-related Fares, documentation procedures, City, airline, and airport codes, good hands over the GDS, and more.


QUALIFICATIONS & SKILLS NEEDED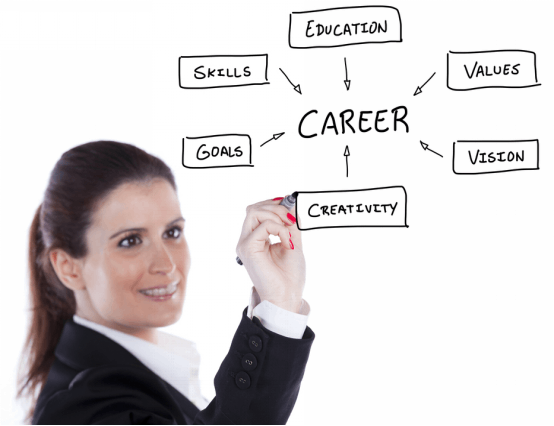 To work in a rewarding yet very much demanding world of Airlines it is strongly recommended that one pursues Graduation Degree in Hospitality, Tourism & Aviation from a UGC Recognized State University rather than any short-term course as pursuing graduation will make the career of an aspirant more stable and sustainable by activating multiple avenues of employment in connected industries too.

SOME TRUTHS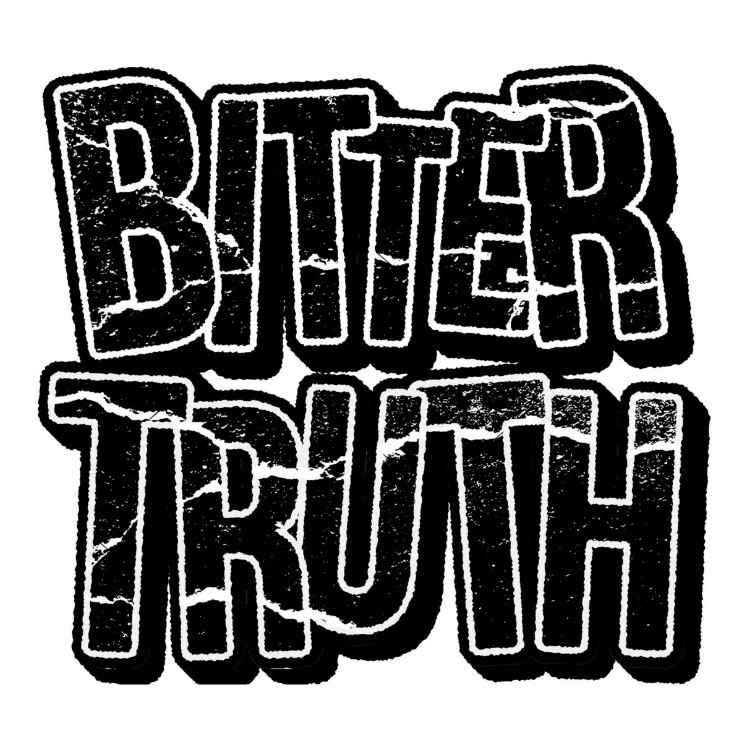 RED ALERT!!!!

Enter the world of Aviation only if one is willing to WORK HARD. As;
- Jobs in Aviation are laborious and involve plenty of physical labor.
- Jobs follow a 24x7x365 pattern which means that one has to work in ROTATIONAL SHIFTS (mornings, afternoons, evenings, and overnight) and also on public holidays.
- One must be ready to stay away from families for an extended duration.
- One needs good knowledge about the technical aspects to enter this industry, especially the FIRST AID procedures.
- If you aspire to be in the Customer facing role then proficiency in English is mandatory.
- It is advisable to have a basic knowledge of operating GDS (Global Distribution Systems).

Lastly, good knowledge of Airline Geography and emergency procedures coupled with good Communication and Soft Skills will be helpful in cracking the interviews with good Aviation and Airline Companies.

- Prof. Shree Patki
Dept. of Hospitality & Tourism Management